"A year from now, you will wish you had started today."
— Karen Lamb
The last couple of weeks have been super busy with preparing people for the 2023 season and doing a lot of pivoting with all of the storms hitting the Pacific Coast . In general, Tempo athletes have done a WONDERFUL JOB of staying flexible ( both mentally and physically) and we have stayed fit and on schedule. If there is some silver lining to the pandemic, its the smart trainer and home gym that almost every serious endurance athlete has acquired by now. We really don't have as many excuses or "friction" as we did even a couple of years ago.
Another thing I've been doing personally is seeing doctors again on a more regular basis, this felt very difficult and challenging during the pandemic, but I'm now catching up on regular medical care like vaccines and checkups. I also spent some time with a sports cardiologist as well, where I received a clear echo and EKG, which both has me feeling more confident about training hard again as well as more willing to work with my endocrinologist and address my slow thyroid more aggressively. Long COVID definitely took some wind out of my sails this fall, between that , actual COVID, a saddle sore after Tru Lassen, and getting sick more than I have in probably 10 years, its been challenging to develop a ton of momentum.
You can see it very clearly in this Performance Manager Chart-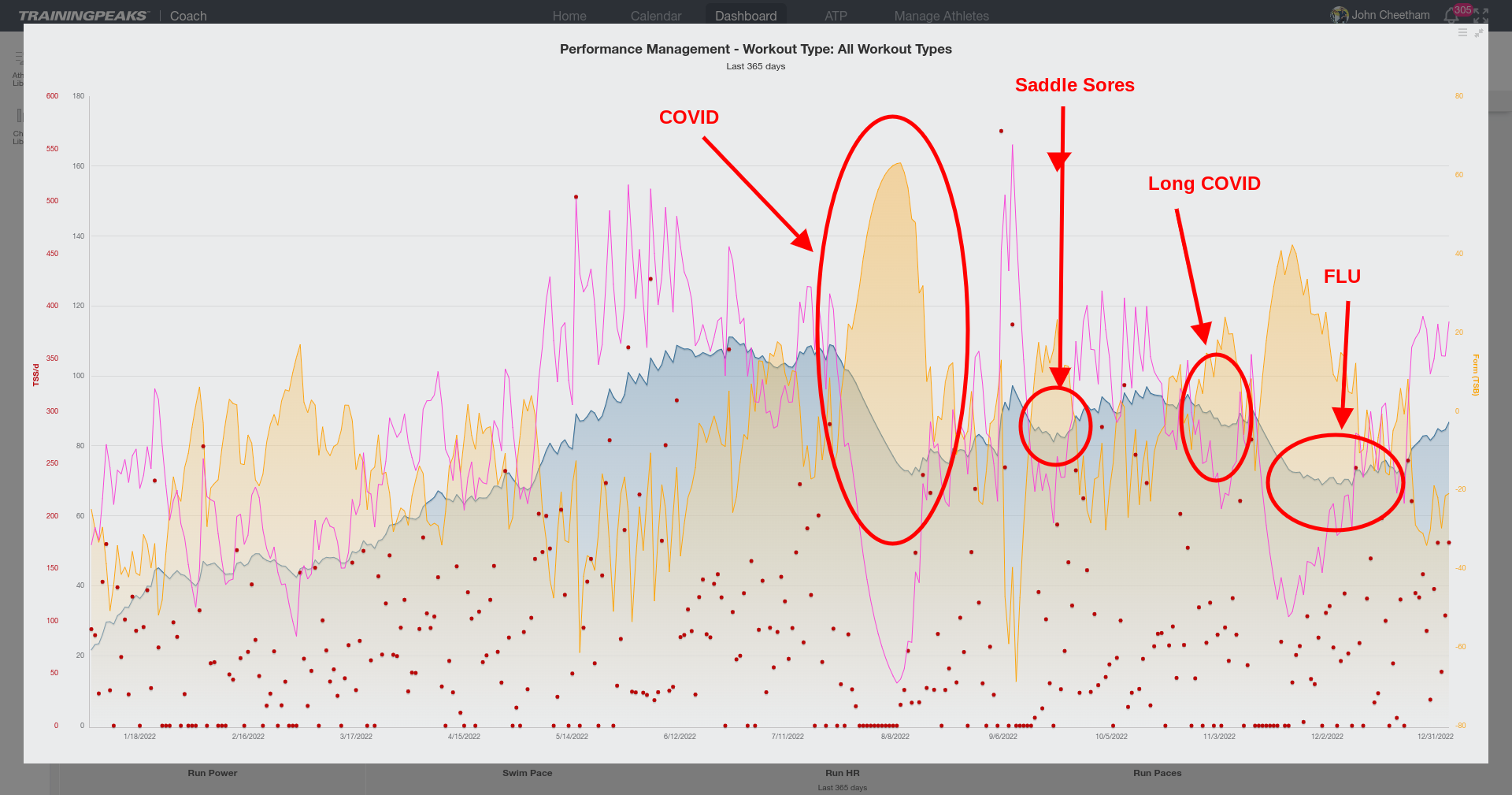 I wish all those big positive Training Stress Balance yellow surges were for races or vacations!
I'm looking forward to training more in 2023 ( I have some big goals!) and helping you "roll that rock off the hill" and gain momentum as we speed towards spring and summer!