The dream doesn't chase you back
Shalane Flanagan 
Last weekend's stormy weather and very rare snow made for canceled racing ,and what road racing happened was often flat-plagued and more of a test in survival than most people enjoy. I spent Friday and Saturday in a motel in Modesto waiting for the first high school race for our little team this season. After several postponements the Norcal race crew had to cancel, which was the right thing to do , but such a bummer for the kids and families.
One of the things that I think is very important when coaching kids is to remember they are always watching you. The behavior of every coach I ran into this weekend was excellent, nobody threw a tantrum or complained , even on the internet 🙂 Building resilience in athletes starts at the top with modeling of good behavior, big kudos to all the adults involved!
Having a little bit of unplanned time this weekend allowed me to finish building this Otso Fenrir, which has been a slow process. I spent some time in the fitting studio  this fall riding various brands and sizes of adventure bikes, and when Full Metal Cycles in San Rafael had a  stainless Fenrir frame in stock I picked it up in October. The new Boost hub standard had me get another set of dynamo wheels built by Roaring Mouse ( I still have a set of 100/142 dynamo wheels for sale if anyone is interested) and I slowly ordered a full XT groupset as it was available.
 I am running a SQ 16 deg sweep bar paired with SQ 702 grips, which are more supportive than the 701s I ran on my last trip.I like them both so I need to get out and do some miles on the new versions before deciding.  I will have SQ Innerbarends as soon as I can get them ( just sold my last pair to a client heading out on a trip  to the Trans-Balkans Race soon) and just got in a Pro Missile aero bar to pair with a Fred Bar. I'll get the cockpit together completely soon and start getting it out for rides. I'm really excited about a whole bunch of details  on the front end and will definitely do more posts down the road.
I also had a custom Rockgeist frame bag done, it fits so well, I'm super excited! The fabric pairs well with the micro panniers from Rockgeist I've had since last year. I will likely get some more cockpit bags from him shortly.
Here's the current build-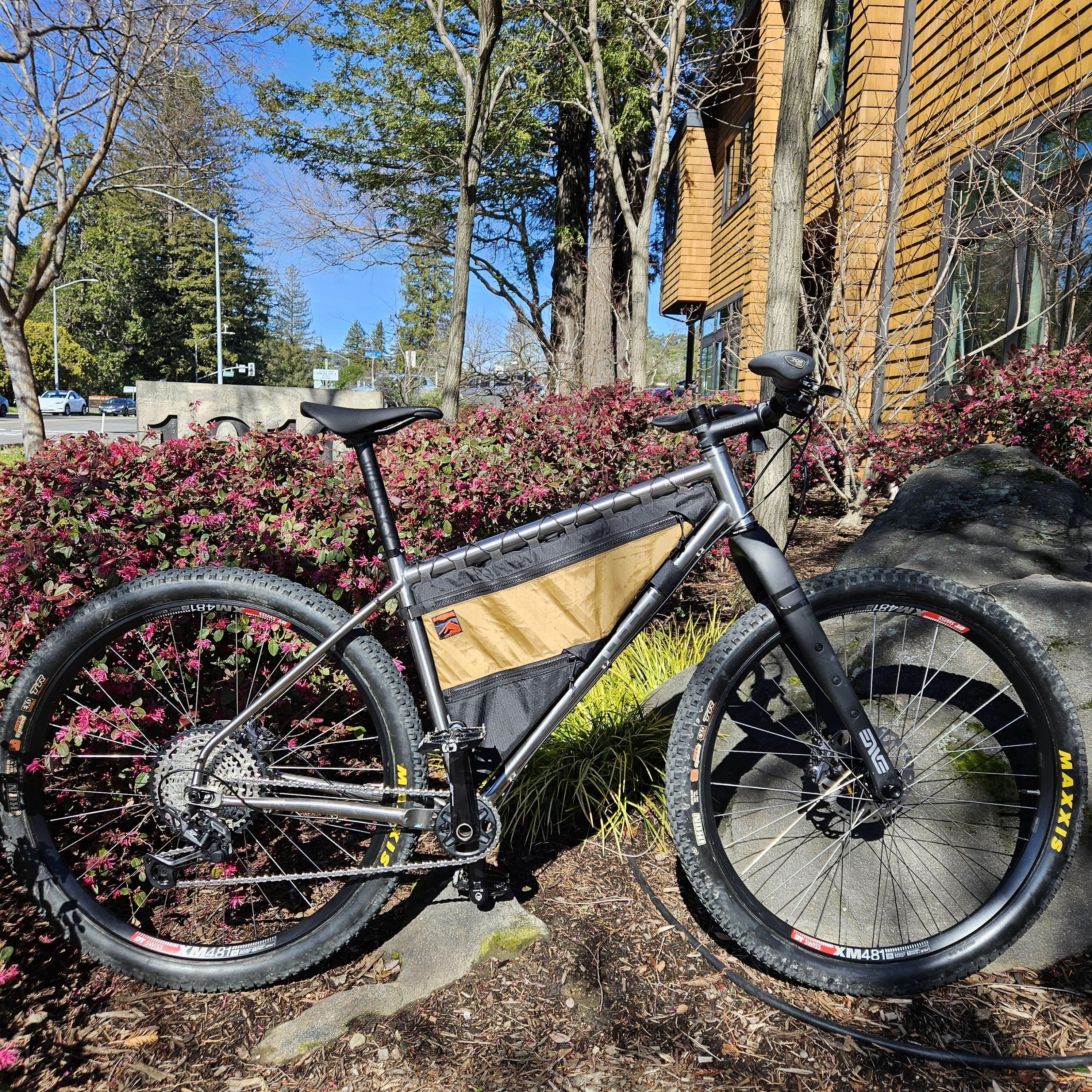 Deep Dive
Kudos And Results
Alec Guilford- P9, Cat 4 Men, Snelling Road Race
Haley Nielsen- DNP ( mechanical) Women 123 , Snelling Road Race